TAIYO YUDEN

- Now in its 64th year, Tokyo-based TAIYO YUDEN CO., LTD. is a worldwide manufacturer of surface-mount and leaded passive components, Bluetooth modules, CCFT inverters and recordable digital media.

With approximately 50% of the worldwide market in high-frequency multilayer chip inductors used in cell phones, the company reports annual sales of nearly US$2.06B. Worldwide, TAIYO YUDEN employs more than twenty thousand people. The company's North American affiliate, TAIYO YUDEN (U.S.A.), INC., operates sales and engineering offices in Chicago, IL, Raleigh, NC, Irving, TX, and in California at San Jose and San Diego.
NR Series Power Inductors
Updated: 2017-05-17
TAIYO YUDEN NR Series Inductors are SMD power inductors characterized by a small and low profile and magnetic shield structure.
Duration: 5 minutes
Bluetooth Smart Modules
Updated: 2016-01-26
Reducing time-to-market, and allowing engineers to focus on the core product, the EYSFCNZXX Bluetooth Smart module includes an onboard antenna and FCC/IC/MIC certification.
Duration: 5 minutes
MCOIL™ Inductor
Updated: 2015-05-20
The MCOIL™ inductors offer industry leading current ratings in small component size, making them ideal for a wide range of applications.
Duration: 5 minutes
Filter Antenna
Publish Date: 2009-10-28
Filter applications and antenna solutions from Taiyo Yuden, application examples for RF filters, and an antenna design guide.
Duration: 5 min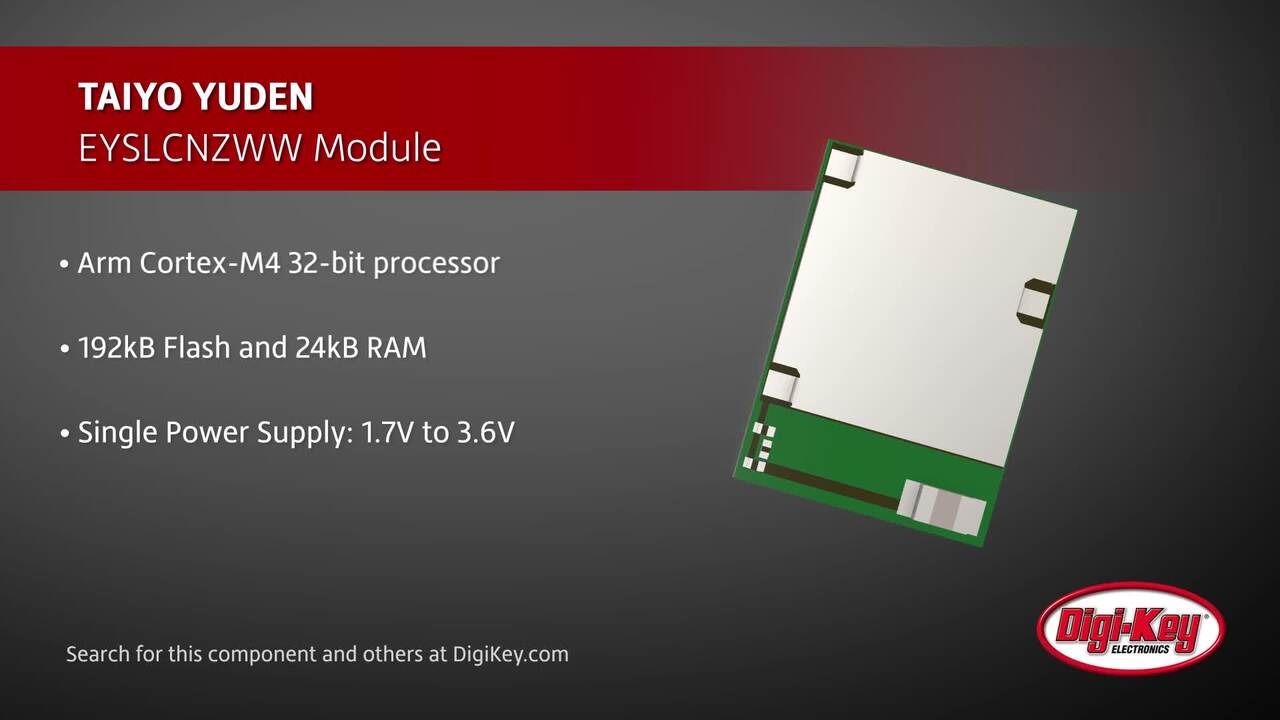 WYSACVLXY-XX WLAN Module Programming Tutorial
Significantly reduce time-to-market with TAIYO YUDEN's FCC/ISED/Japan certified WYSACVLXY-XX module. This WLAN module comes with an on-board networking stack and can be easily configured by simple ASCII commands. Prototyping has never been easier!
Additional Content
Product Information

Software

White Papers

Company Information

Additional Links

Documents of Interest