Kingbright

- Kingbright Company LLC. is a leading LED manufacturer with a global presence. For over 29 years, Kingbright has delivered the highest quality LED products, technological innovations, and unparalleled customer service around the world. Headquartered in Taiwan, Kingbright's dedication to vesting R&D projects and developing full line ultra-high-efficient LEDs remains the core mission. With the immense production capacity of its TS 16949, ISO 9001, ISO 14001 certified manufacturing plants in China, Kingbright continues to exceed many expectations worldwide.
Ultra-Thin SMD Displays
Publish Date: 2008-09-28
Kingbright continues to advance its SMD display products by developing the ultra-thin 0.8 character height SMD display.
Kingbright 0805 and 1206 LEDs
Publish Date: 2008-09-28
Kingbright's 0.4 mm low profile 0805 Bi-Color SMD LEDs' brilliant creation is designed with 2 ultra bright LED chips with a viewing angle of 120°.
0.25 mm Ultra-Thin 0603 SMD LEDs
Publish Date: 2008-11-27
Kingbright Corporation announces the highly reliable Kingbright 0.25 mm ultra-thin 0603 SMD LEDs (APG1608 package).
Ultra-Thin SMD Display
Publish Date: 2013-02-05
Size range from 0.2" up to 0.8" character height. As thin as 0.12" (3mm), and very low power consumption.
SMD LEDs
Publish Date: 2013-07-02
Kingbright, an LED manufacturer, unveils its landmark product in development of industry's first 0603 dome lens package - SMD LEDs (APTD1608 series).
Minikin-Air Series
Publish Date: 2014-03-28
The smallest, thinnest, yet still powerful and robust LEDs. Top emitting, chip-type SMD LED 1.0 mm x 0.5 mm x 0.2 mm. 0.2 mm in total thickness.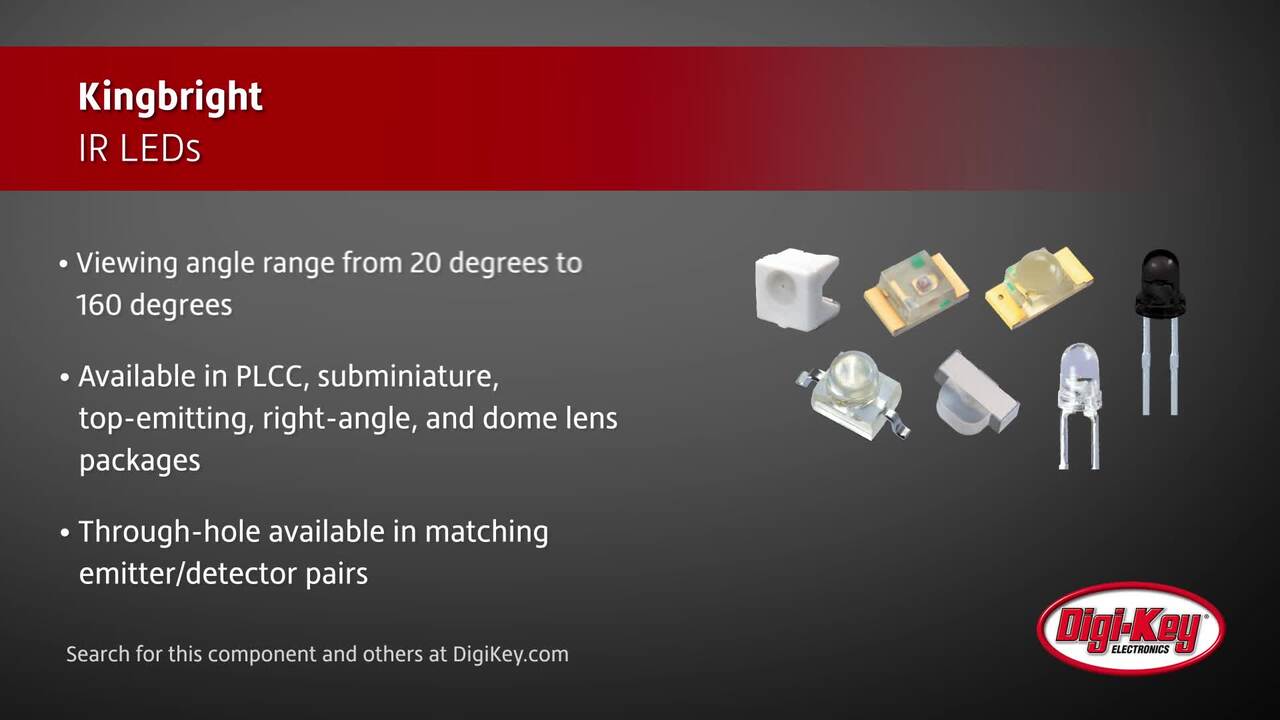 Kingbright IR LEDs | Digi-Key Daily
Kingbright's selection of IR LEDs features infrared emitters and phototransistors in the wavelength range from 850 nm to 940 nm at 20 mA (or 50 mA) with different lens options and viewing angles from 20° to 160°.